How to Save Money on Flights with Skyscanner? When planning your next vacation, sorting out flights can often be daunting. There are many factors to consider, from finding the cheapest time to fly to picking the right seat and even upgrading for free. However, with the help of Skyscanner, you can easily find the best flight deals and make your journey a breeze.
In this article, we will share our expert tips and tricks for saving money on flights with Skyscanner, so you can fly for less and enjoy your dream destination without breaking the bank. From searching for flights at the right time to taking advantage of Skyscanner's many features, we've got you covered. So, whether planning a trip for business or pleasure, read on to learn how to fly for less and have the easiest journey possible.
What is Skyscanner, in short?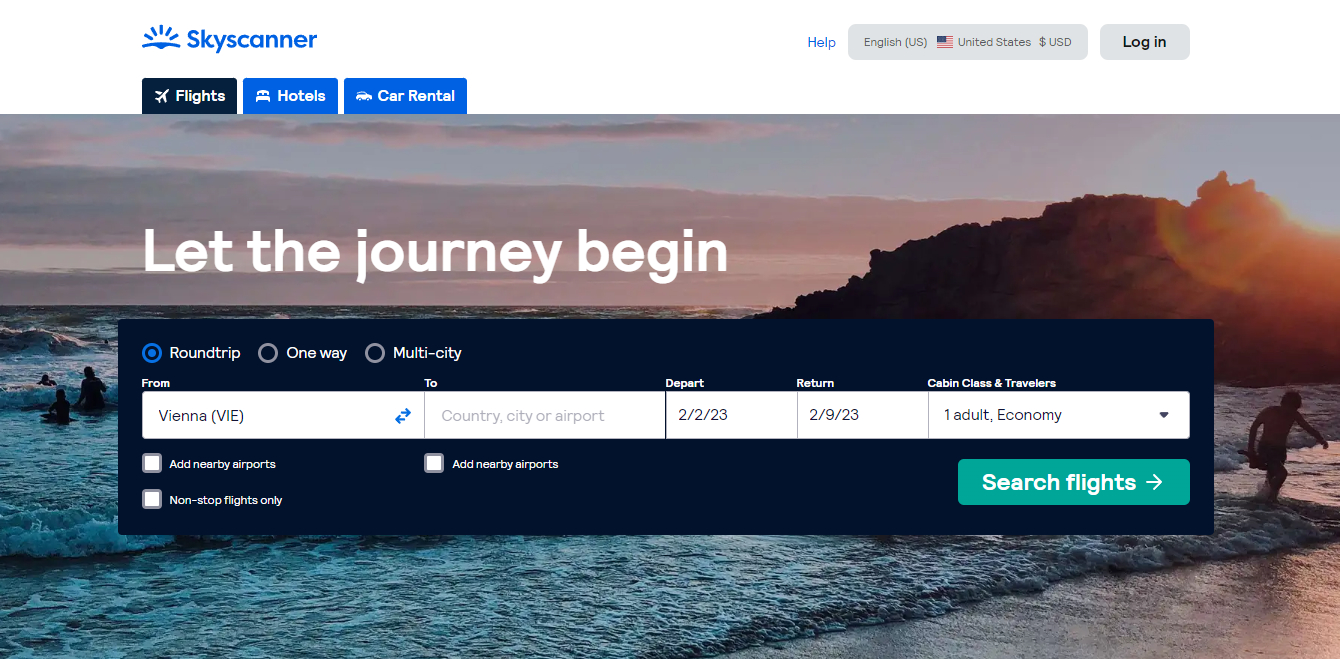 A flight search engine, Skyscanner. In a broader sense, they are an online travel search engine because you can also book a hotel and a rental car through them. Still, this article will restrict my attention to just the flights available through Skyscanner.
Because of hard work over several years and more robust consumer protection laws, we now have this openness. The website and the mobile app, Skyscanner, are available at no cost to users. The prices listed are the final prices you will be responsible for.
You are probably aware that Google quickly crawls through thousands of websites to provide you with the best possible results for your search. Imagine if Google focused solely on locating the lowest airfares available from various airlines and OTAs (OTAs). Skyscanner searches the websites of airlines and OTAs (online travel agencies) in order to display the best flight deals in under 30 seconds (at least, that's what they promise, and after using it a lot, I can attest that they usually deliver).
Skyscanner is a search engine that helps you find cheap flights, but you don't actually book the flight on the site or app; instead, after you choose your itinerary, you'll be redirected to the booking page of the airline or OTA, where you can finish your booking and make your payment.
Advantages of Skyscanner
Skyscanner is a fantastic tool to have in your arsenal. It shows you ticket prices by day and month and also allows you to compare prices with calendars and graphs. This feature is particularly useful if you're flexible with your travel dates and want to find the cheapest option. Skyscanner also allows you to search for non-stop flights, saving you time and money. This feature is great if you avoid layovers and long waits at the airport.
One of the most useful features of Skyscanner is its ability to show you the cheapest months of the year to fly. This can be a great way to save money if you're planning a trip in the future and want to find the best deals. Another great feature of Skyscanner is the ability to create alerts. This will notify you when the price of a specific flight drops, so you can book it right away. This can be a great way to save money if you're keeping an eye on a specific flight.
Another advantage of Skyscanner is that it's free to use and only works with trustworthy websites, avoiding the risk of online scams. This gives you peace of mind, knowing that you can search for flights without having to worry about falling for a scam.
All in all, Skyscanner has a lot of advantages when it comes to finding cheap flights. Its user-friendly interface, variety of features and trustworthiness of website make it an essential tool for anyone who wants to save money on flights. Whether you're planning a trip for business or pleasure, Skyscanner is the perfect tool to help you find the best deals on flights.
How to Save Money on Flights with Skyscanner: 10 Skyscanner Top Tricks For Booking The Cheapest Flights
---
---
1.Open an incognito window or clean your browser data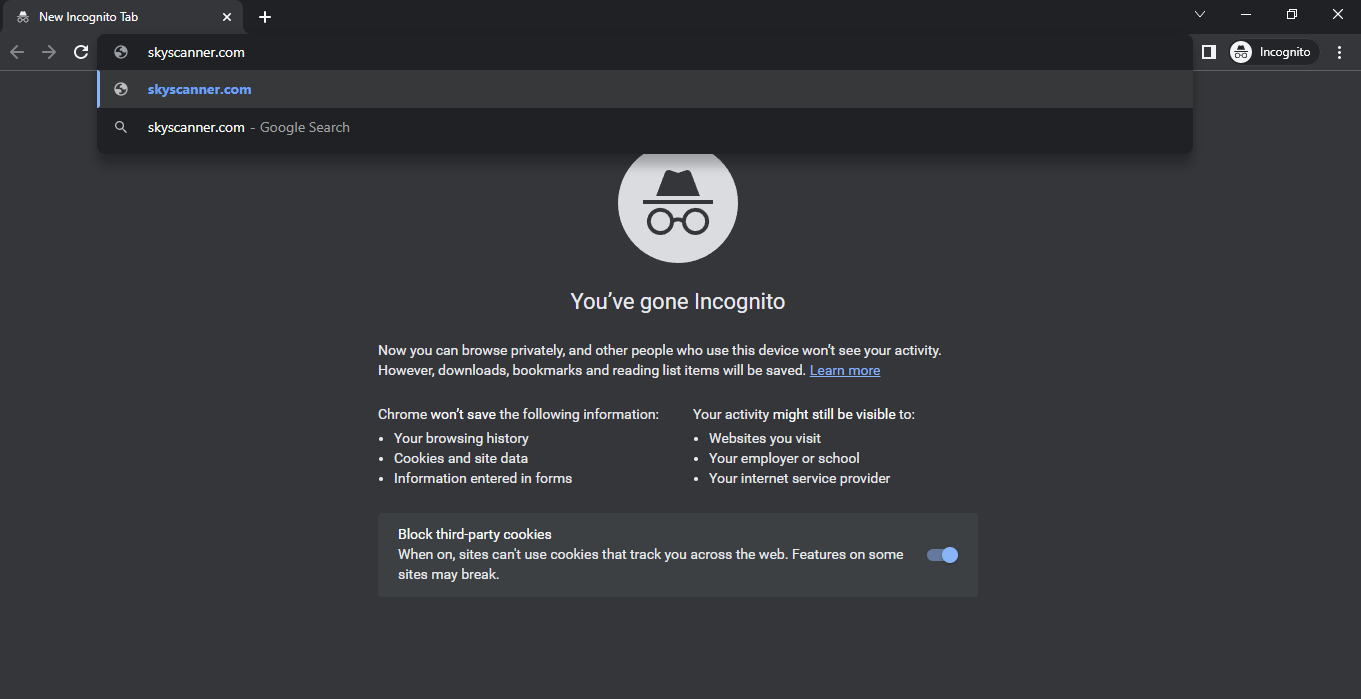 Have you ever looked at a flight multiple times and then noticed a sudden and drastic price increase? That's because, after a third or fourth look, the search engine realized you were serious about booking that flight and raised the price accordingly. Searching for flights can cause the price to fluctuate with each new query or page refresh. To get the best deal, delete your browser's cache and history and conduct your search in private browsing mode.
How did the search engine determine that you were particularly keen on purchasing that specific ticket? This is because it has "cookies" that identify you from previous visits. It's common knowledge that you can save money on plane tickets by using the incognito window. In this case, there are those who don't think it works and those who swear by it. Considering how well this has served us on numerous occasions.
2.Change different currencies and languages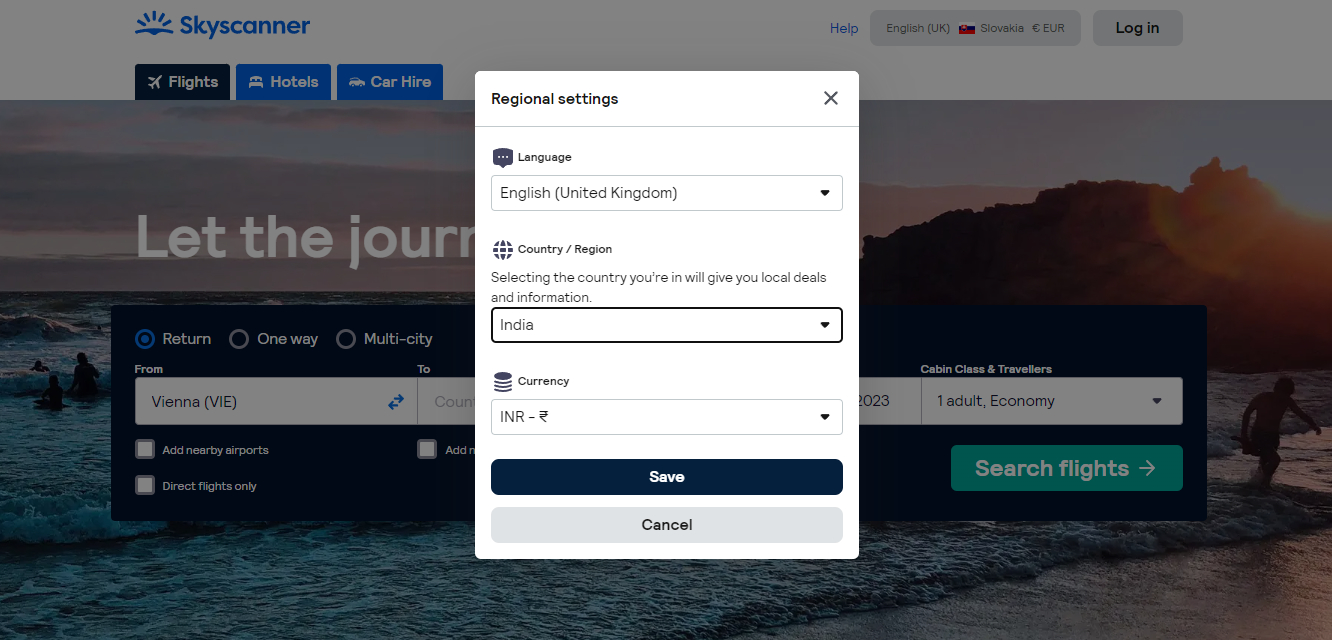 First, you should know that the site lets you change the currency and the language. Currency exchange used to be one of the best ways to get a cheap flight. To be honest, though, it's a risky bet. You'll have to deal with alerts from your bank about fraud, foreign transaction fees, and translation problems.
Most websites that talk about this hack will tell you to search from a country where the currency is weak. This is wrong. Money that is not stable is soft. It's very sensitive and shows a lot about a country's social and political climate. If you want to really try this hack, buy your ticket with a weak but hard currency.
To change the currency, language, or country, all you have to do is click on the menu icon in the upper right corner of the page. After that, a new "window" pops up, and at the bottom of it, you can change the language and currency. You just click on it, change it to whatever you want, and click SAVE.
3.Get a VPN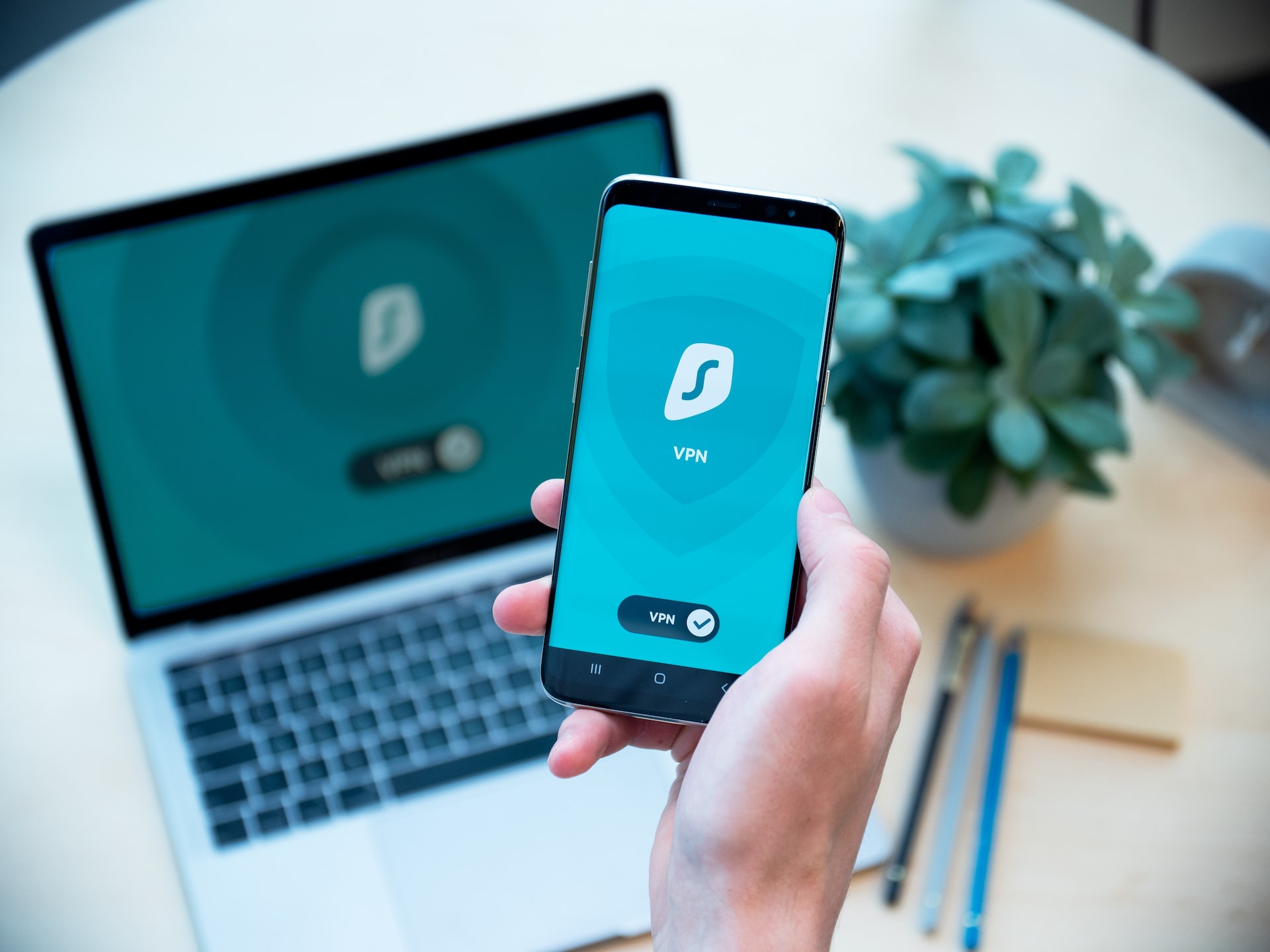 When it comes to finding the best deals on flights, one key hack to keep in mind is the language and currency change. Many travel companies base their prices on where they believe you are located. This means that if you're searching for flights from a country that is considered wealthy or from outside your own country, you may pay more.
One way to circumvent this issue is by hiding your IP address before using Skyscanner. While using Google Chrome's Incognito Mode may be sufficient, it's always best to take extra precautions. A VPN (Virtual Private Network) can be a great way to do this. Connecting to a VPN allows you to change your virtual location and search for flights as if you were already in the area. This will make the site think you live nearby, which can lead to better deals.
It's important to note that we are not recommending any specific VPN companies in this post. However, if you take the time to shop around, you can find deals for as little as a few dollars a month. When selecting a VPN service, it's important to read the Privacy Policy carefully. Some services may collect information that can be used for targeted advertising, so be sure to choose a service that aligns with your privacy needs.
4.Try different Skyscanner domains hack.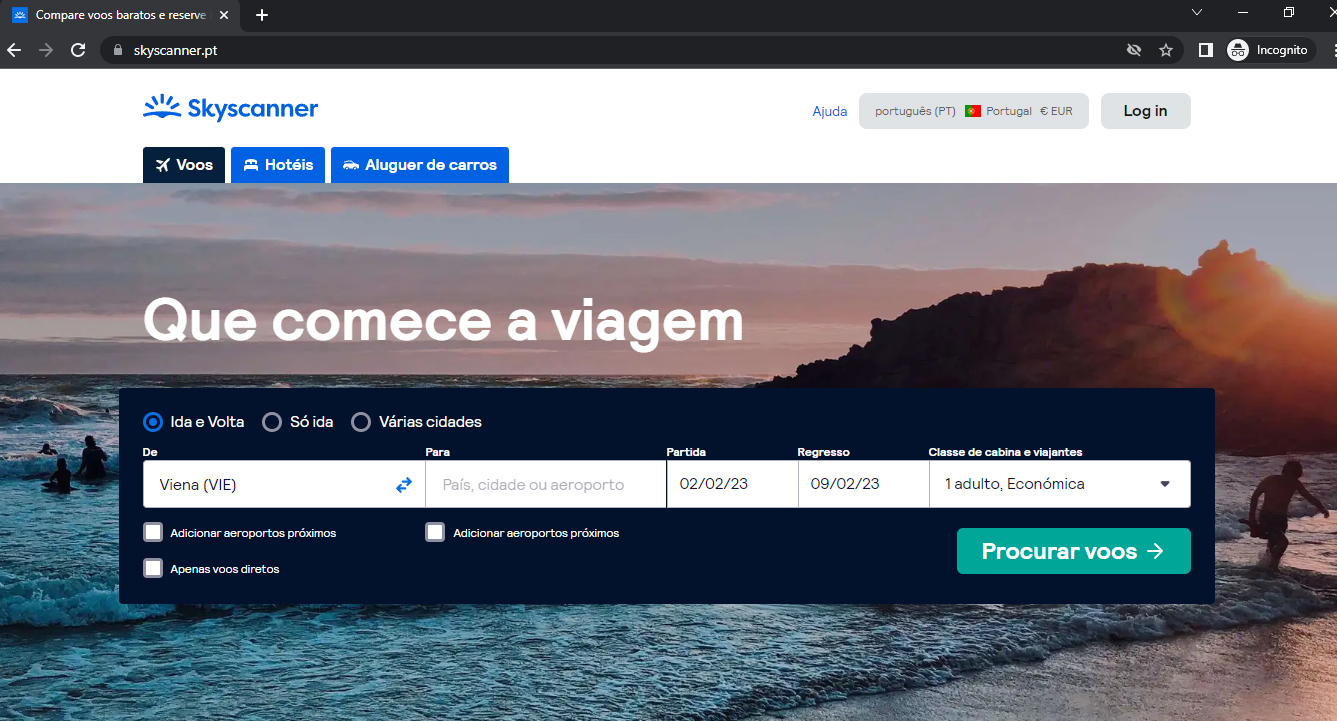 Here's a little-known tip from a seasoned traveller: pay attention to the domain you are using when searching for flights on Skyscanner. This option is especially useful if you are travelling abroad and don't want to go through the hassle of setting up a VPN.
For example, let's say you're currently in Colombia and want to book a flight. Search for your desired flight and do some research. When you open Skyscanner in your browser, it will likely default to the .net domain. But here's the catch – when you switch to a different Skyscanner domain, such as .es or .pt, you may find the same flight at a significantly lower price. In our example, the flight cost 60 euros less on the .es domain and 171 euros less on the .pt domain.
As you can see, there can be significant price differences depending on your domain. It's always a good idea to check multiple domains, such as Skyscanner.com, Skyscanner.pt, Skyscanner.es, etc., before making your final decision. By doing so, you could potentially save up to $100 per way on your flight. As a passionate traveller, we highly recommend taking a few extra minutes to compare prices across different domains before booking your flight on Skyscanner. It's a small step that could save you significant money.
5.Sing up for notifications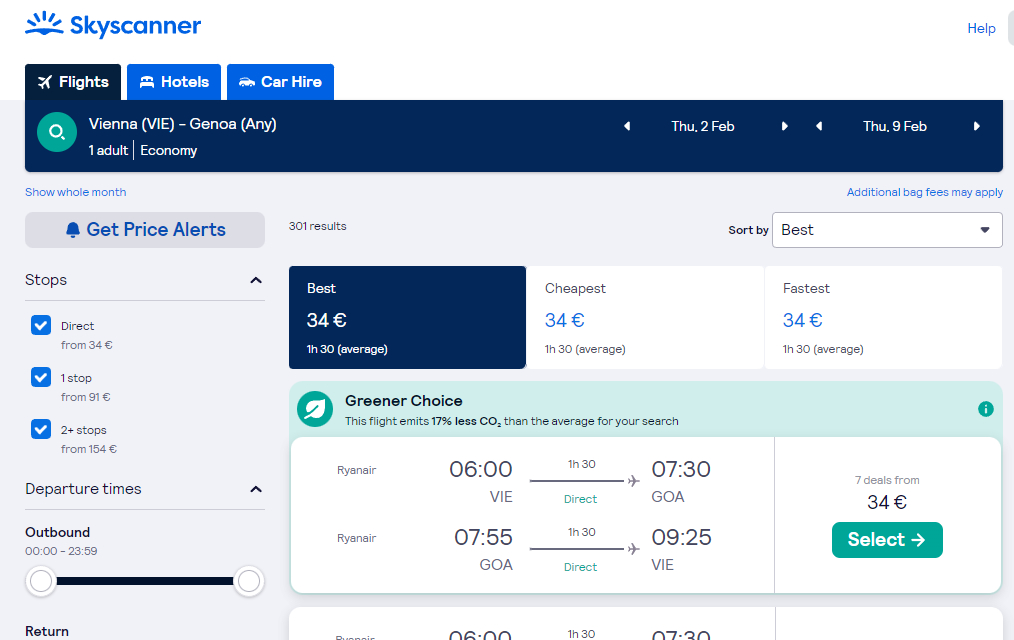 However, you shouldn't be concerned about this because Skyscanner will keep you updated on any new pricing information. You have the ability to set up an alert that notifies you via email whenever there is a change in either the price or availability of the ticket that interests you. You won't have to check the platform quite as frequently if you do it this way.
To receive price alerts, click on the left button where it says "Get Price Alerts." After clicking the button, a new window will open where you can choose to sign up using your existing Google, Facebook, or Apple account. Cancelling the service at any time will allow you to avoid receiving any further notifications if that is what you desire.
6.Find the best days of the week to book your flight.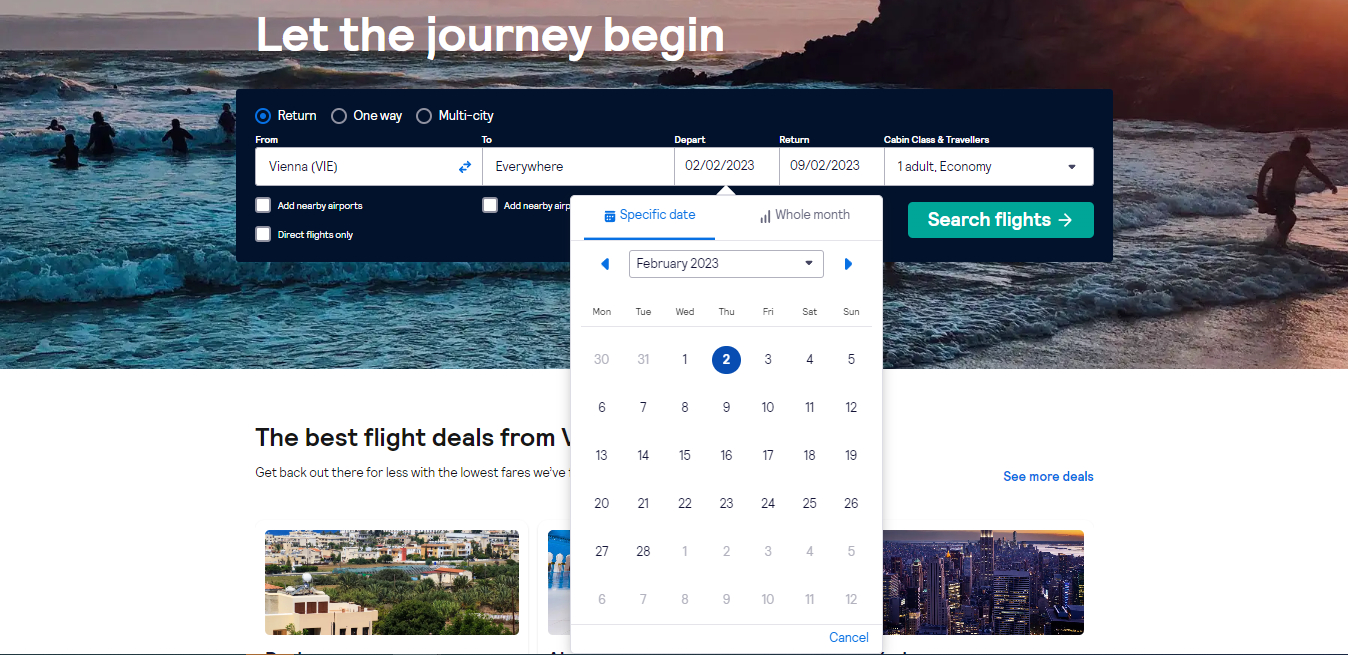 There have been a number of studies that show prices can change throughout the week. The cost also varies depending on the time of day. You can save money, for instance, by making reservations for lunch rather than dinner when prices tend to be higher. Reports show that booking a flight around 15:00 is optimal.
Weekends are the worst days to book a flight because everyone has more time on their hands and more people are looking to travel. However, Mondays and Tuesdays are typically the best days to book a flight at a low price.
Historically, airlines have released sale information on Monday evenings or Tuesday mornings, prompting their rivals to lower their fares the following day. Although this data was derived from research, it still depends on variables such as final destination, travel dates, starting point, etc. Although many believe that Tuesday is the best day of the week to book a flight, recent studies have shown otherwise.
7.Don't go anywhere during the busy months.
This tip is so obvious that I wasn't sure if I should include it or not. Most people can only travel during the summer, so they can't really do much about it. Prices are much higher during Thanksgiving, Christmas, and the summer, so if you have some flexibility, you should avoid travelling during those times.
Also, February is a great time to find good deals on flights between continents. October and November can also be good. These deals can be different depending on where you go, but those months are worth looking at. Even if you shop around and do a lot of research, you can get a good deal at any time of the year. However, most people say that January and February are the best months to book a flight.
No matter what month it is, there is also an ideal time to book your vacation. Skyscanner says that you should book your international flights at least 4–6 months before you want to leave. They show that the best time to book a domestic flight is around 4-5 months in advance. However, if you can wait until just 2-3 weeks before your flight, you can get great last-minute deals if you book within that time frame.
8.Pick places that are cheap and use the everywhere feature.
You will love Skyscanner's "Everywhere" option if, for example, you are a long-term traveller looking for your next destination or if you want to go somewhere for the weekend but don't know where. Instead of choosing a specific destination, just pick "everywhere" from the list. Skyscanner will do its magic and give you a list of possible destinations, starting with the cheapest one. Each price will be the best they have for that country.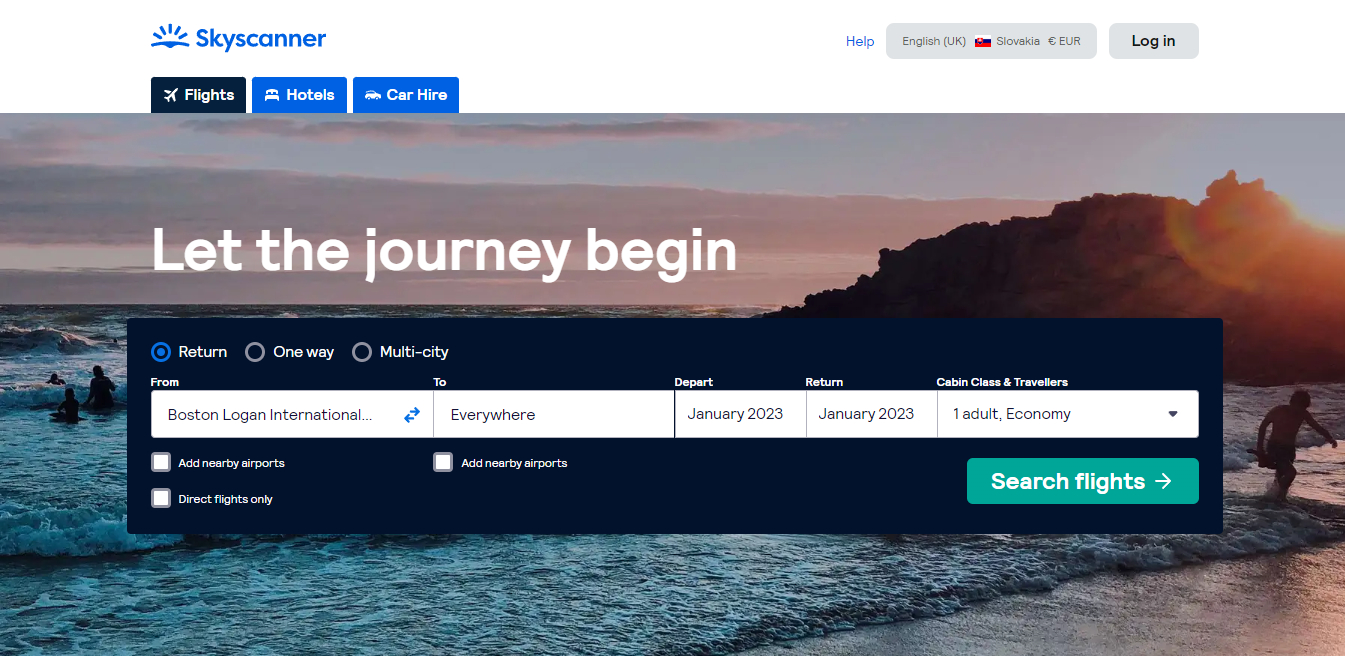 If you are travelling through Europe, you can usually find good deals in most capital cities. Offers are often available in Barcelona, Malaga, Perugia, Milan, Rome, Paris, Krakow, London, and Brussels. The secret is to use low-cost airlines like Ryanair, EasyJet, Vueling, etc. Remember that these cities can also be the most expensive when it's peak season.
If you are in Europe and want to go a little further, like to the Middle East, you can find good prices in Istanbul, Amman, and Cairo. In Asia, Iran, India, Thailand, and sometimes Vietnam, Malaysia, and Indonesia are usually the cheapest places to visit.
Usually, New York is the cheapest place to go in the United States. Most of the time, the best deals are to Cancun, Punta Cana, Havana, Varadero, and sometimes Costa Rica in the Caribbean. Several low-cost airlines now fly from Madrid to the American continent and have lowered the prices of flights to some tourist destinations. Prices are usually much higher in Guatemala, Honduras, and Nicaragua.
In South America, it's harder to find good deals. Prices are sometimes good in Colombia, Argentina, Peru, and Brazil. But flights to these countries are usually more expensive than flights to places like Mexico or Cuba in Latin America.
After many years of travelling, these are the cheapest places we've found to go from Madrid, but they're not the only ones. Also, deals are always changing. We think you should look for yourself and compare a few places.
9.Find out which month is the cheapest.
Has nothing planned at all? Skyscanner lets you look for the cheapest month if you have some flexibility. You can look for a flight you want to take by clicking on the "depart" field instead of entering the departure and return dates. When you do this, a window will pop up where you can choose a specific date.
Look at the top of the page. There are two tabs there: "Specific Dates" and "Whole Month." When you click "Whole Month," you can choose between specific months and the "Cheapest Month." If you click on the second option, Skyscanner will find the cheapest month(s) to fly. If you have the luxury of travelling anytime, this move can save you hundreds of dollars on airline tickets.
10.You can use try Skyscanner on your laptop or your smartphone.
We prefer and recommend using a computer over a phone app when using Skyscanner. Skyscanner does offer an app which can be downloaded. However, it is important to note that many apps lack certain features found on the full version of the website. The app allows you to search for cheap destinations, too. However, if you really want to find the best deals, the desktop version is easier to use.
While it is still possible to book flights using the app, utilizing the full version of the website is recommended for optimal results. These tips on using Skyscanner to find the best value flights have been shared in hopes of being helpful for planning an extended trip.
A post on this topic is available for further assistance with planning an extended trip, utilizing flight prices from Skyscanner to determine destination and date. A series on this topic is also available for those with bigger travel ambitions, such as travelling the world full-time. In addition, Skyscanner also offers a hotel booking page and car rental comparison facility, which can be of great use during the planning process of a trip. Best of luck in finding the best deals and safe travels.
Frequently Asked Questions (FAQs):
Is Skyscanner a reliable way to find flights?

Yes, Skyscanner is a reliable company that has been around since 2003. As of 2016, more than 60 million people used the site, which has over 14,000 reviews and a 4.4 rating on Trustpilot. So you can feel safe when you book a flight.

Do all flights show up on Skyscanner?

Skyscanner is one of the best ways to find cheap flights and book them. But you should know that it doesn't list all flights. Even though it covers a lot of airlines, it doesn't include all of them in its search results. Also, some routes may not be possible depending on where the user is. This means you should always check other sites or call an airline directly to make sure you're getting the best deal on a flight. Even though this is true, it is still one of the best ways to book flights.

Should I book directly with an airline or use Skyscanner?

When you book a flight, it depends on what you want. Skyscanner is a great way to find the cheapest flight because it searches hundreds of travel sites to find the lowest prices. So, it'll have more options available. But if you like a certain airline or the services they offer, airlines may be a better choice. They may give you discounts or extra services if you book directly with an airline. The only way to find out about these is to check their website.

Why are flights on Skyscanner so cheap?

Skyscanner uses cutting-edge technology to compare the prices of millions of flights around the world, so users can find the best deal. Skyscanner also doesn't charge fees for its service, which means that you'll pay less. So, when you add everything up, you can only get cheap flights.
Bottom line:
How to Save Money on Flights with Skyscanner? Skyscanner is a powerful tool that can help you save money on your next flight. You can find the best deals on airfare by utilizing its many features, such as searching for non-stop flights, creating alerts, and changing your language and currency settings. Additionally, using a VPN and checking different Skyscanner domains can also result in significant savings.
You can save hundreds, if not thousands of dollars by manipulating results on travel search sites like Skyscanner. Even if you only manage to save $200, that's still money you can put toward fun things like drinks and great meals. The more money you put away, the more places you can visit and things you can buy.