What is Skyscanner?
Skyscanner is a meta-search engine that specializes in the travel industry. It performs a function that is analogous to that of a search engine in that it collects data from across the web and presents information that corresponds to your search terms. You can find flights for your upcoming trip with the help of this useful online tool. It is simple to use and can help you save time because it eliminates the need to look up prices on a multitude of different websites individually. Skyscanner, on the other hand, does all of the laborious work for you.
Skyscanner provides a number of filters that users can apply to their searches in order to refine the results that are displayed. You can search for multiple cities at once, and you can use tools that make it easy to find the locations with the lowest prices and the flights with the lowest fares.
Although you can use Skyscanner to search for flights, the website does not allow users to make reservations directly. Instead, you will be directed away from the site to complete your purchase and purchase tickets for the event. Remember to keep this in mind as you start your investigation into flying.
How to Use Skycanner: A Complete Guide to Book Flight Tickets via Skycanner
To view flight results on Skyscanner, follow these simple steps:
Go to the Skyscanner website or open the Skyscanner app.
Enter your departure and arrival destinations in the search bar. You can also specify your departure and arrival dates, or search for flights on the "Everywhere" option, which shows the cheapest destinations available on your selected dates.
Click on the "Search" button. This will take you to the flight results page, where you will see a list of available flights.
On the flight results page, you will see a list of flights with their prices, airlines, and flight times. You can also sort the results by price, flight duration, departure or arrival times, and even by specific airlines.
To view more details about a specific flight, click on the "Details" button next to it. This will show you information such as the flight itinerary, class options, and baggage information.
Once you have found the flight you want to book, click on the "Select" button. This will take you to the booking page where you can enter your passenger information, select your seats and baggage options, and complete your booking.
---
---
How To Find And Book Flights With Skyscanner? How to start?
Take for example that you are looking to book a flight from Vienna to Bangkok. You have approximately two weeks of vacation time, and you are thinking that the best time to go would be late spring, before the high season begins.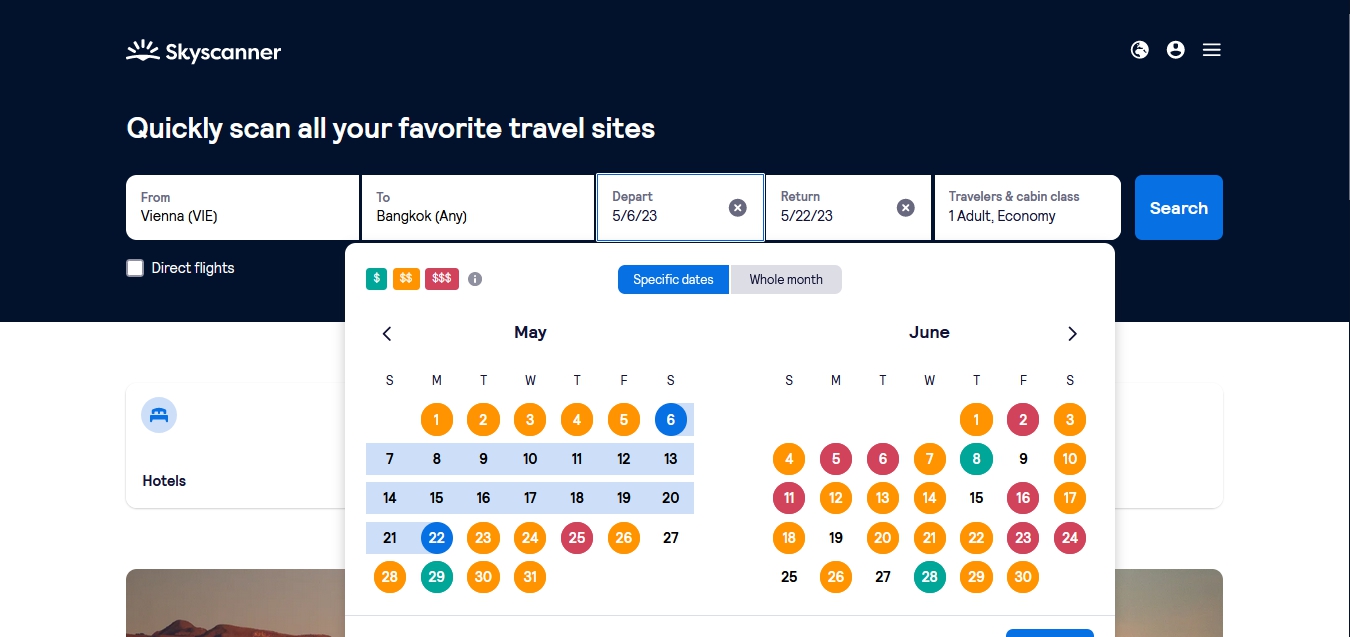 First, choose the dates for your trip and the location. To obtain a more comprehensive set of results, ensure that the "From" and "To" fields are both set to accept entries from any airport in the vicinity. You also have the option to select the number of passengers and the cabin class for this reservation. Choose the "Multi-city" option if you want to go to several different cities in one trip.
How to check flight results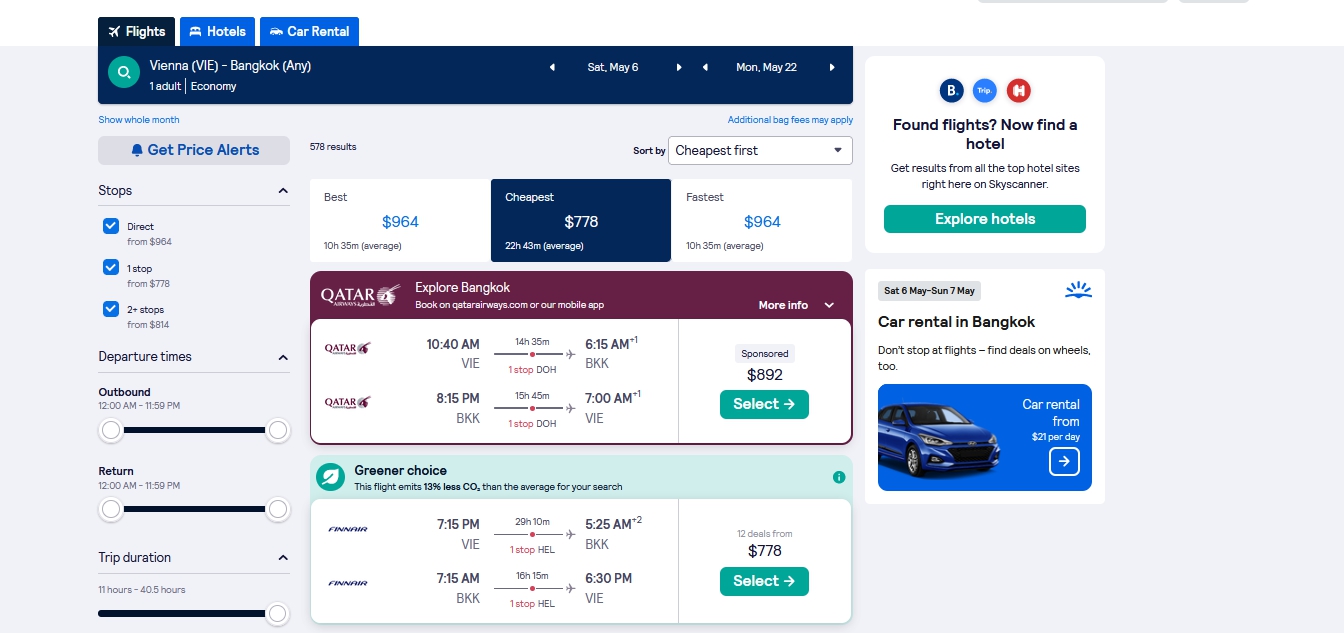 Above your search results is a button labeled "Get Price Alerts," which you can use to set up an alert if you aren't ready to make a reservation right away. After signing in, you'll start receiving alert emails for price changes. The "Best" results (a weighted average of lowest price and fastest speed) are displayed by default, but you can also sort the results by either of these criteria. The slowest flight costs less, but gets you there more than twice as slowly as the fastest.
Setting price alerts for Skyscanner flights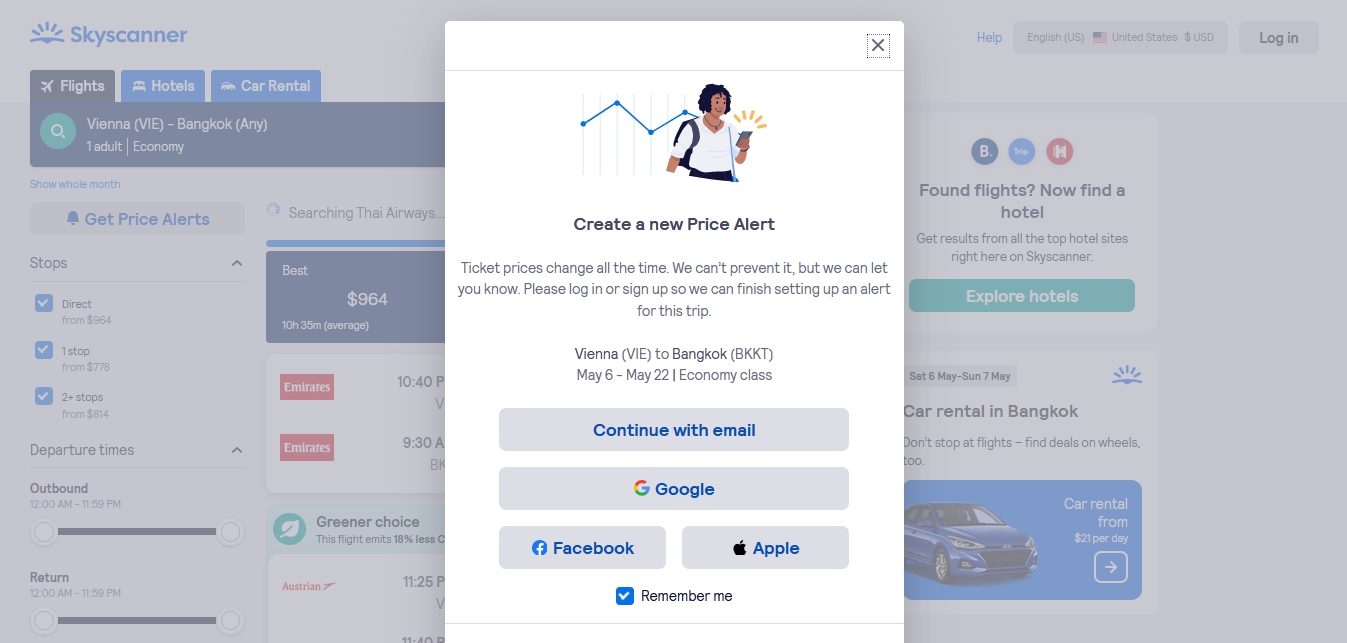 If you do not intend to make a reservation right away, you have the option of setting up an alert by clicking the "Get Price Alerts" button that is located above your search results. You will be directed to a login page, after which you will begin receiving email notifications regarding any changes to the price. This is helpful if your trip is not scheduled to take place for quite some time or if you are not familiar with the normal prices for the route and want to ensure that you are getting a good deal.
How to set flexible dates on Skyscanner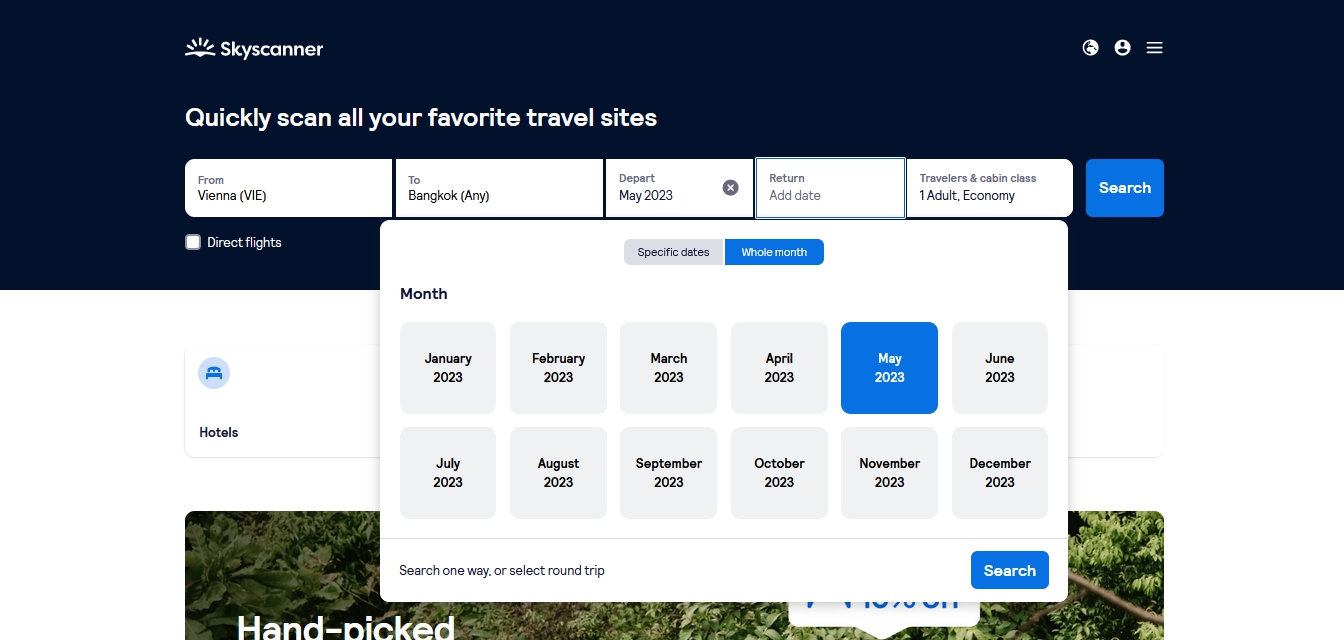 In case you can be more flexible with your travel dates, we've included a full-month view of our rates. You can either choose the entire month in advance of your search, or you can click the "Month" tab in the search results to see the entire month at once.
Select "Whole month" from the date picker's drop-down menu to conduct a month-long search. There are two options for booking: picking a specific month or going with the "Cheapest month" option if you're flexible. You can still see what flights are available in a month if you are already looking at flight results. In the top left corner of your search results, you'll see a link that says "Show whole month."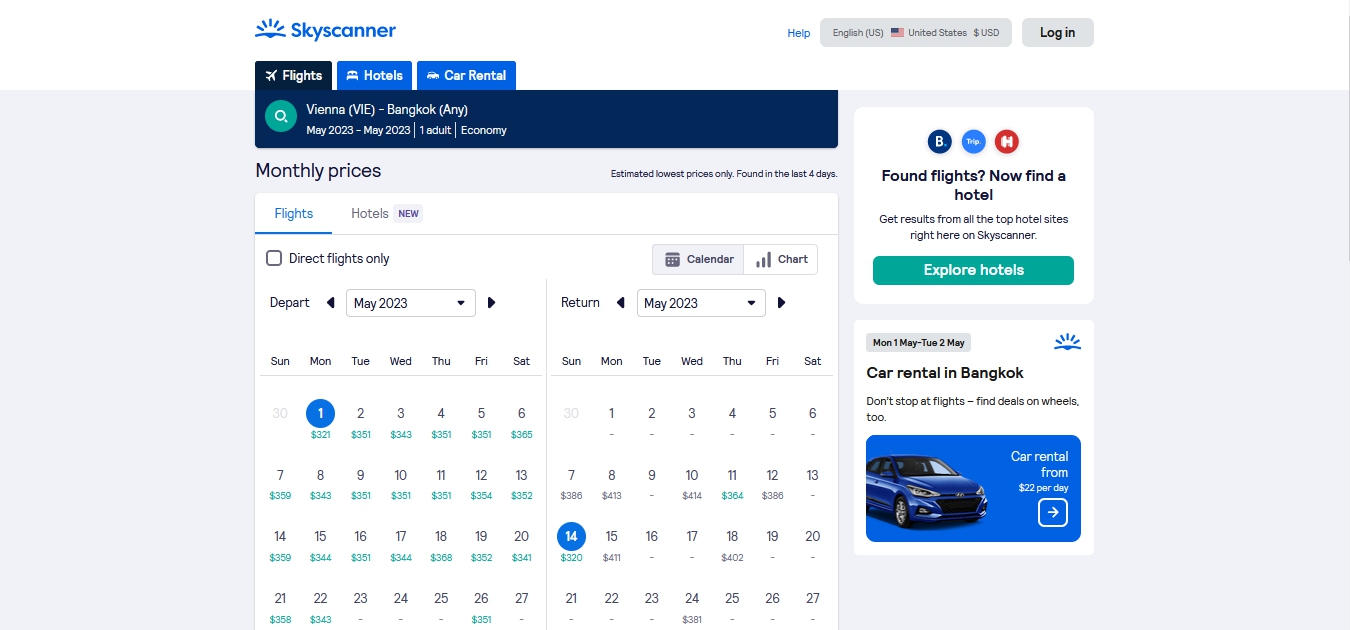 When you click it, all of a sudden you have a lot more choices. If you only want direct flights, click the "Non-stop flights only" button at the top left. The prices on this calendar are for each leg of the trip, not for the whole trip. And, unlike Google Flights, these prices don't change in real time, so there may be gaps or empty dates. This doesn't mean there are no flights on these dates; it just means that a user hasn't looked for them in a while, so Skyscanner doesn't have any information about them. (You can still click on these dates and see the price, but it takes a little longer.)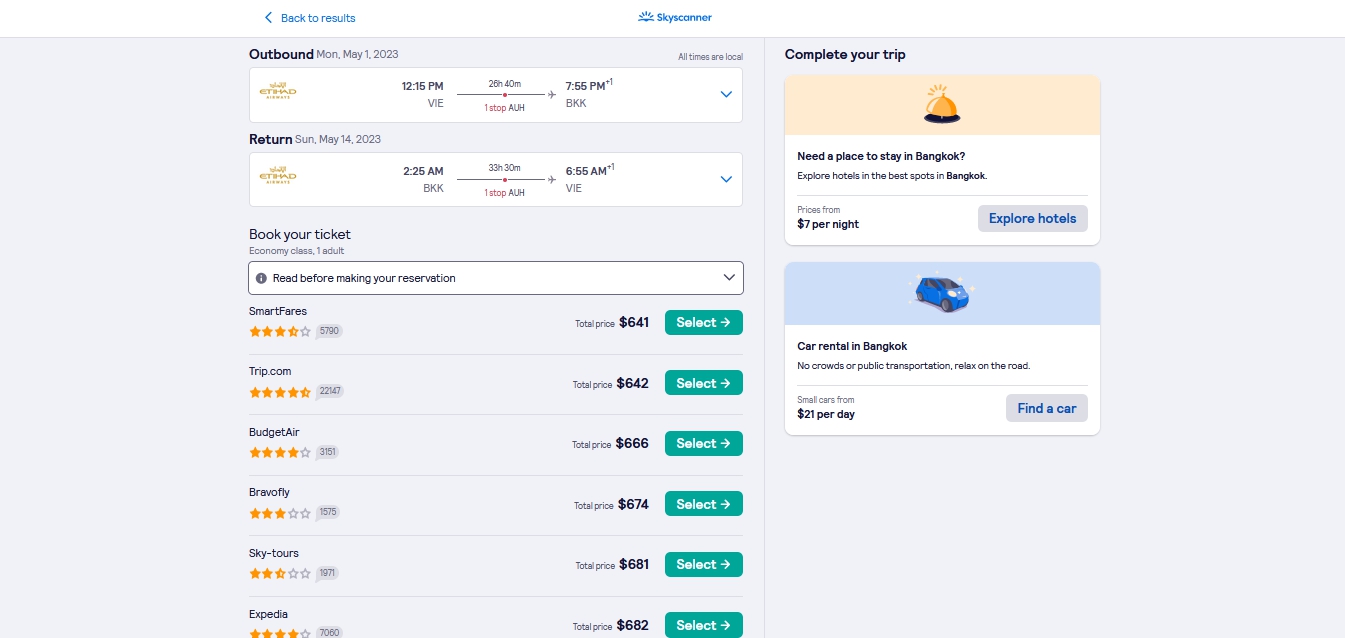 After you choose your flights, you'll get a list of online travel agencies (OTAs) you can book with, along with a star rating for each one. If you're unsure about the online travel agency (OTA) that you're going to be booking with, read some of the reviews. You may choose to pay a slightly higher fee to book with an online travel agency that has a better reputation.
How to use the Search Everywhere functions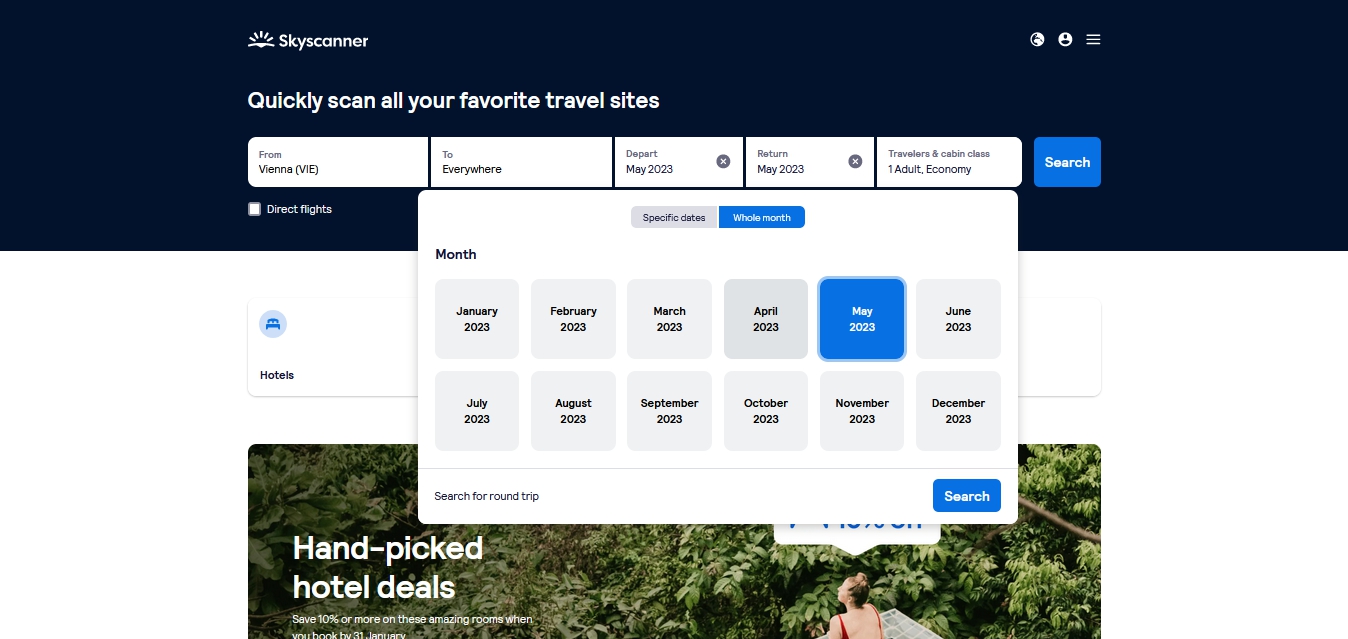 Let's look at an alternative situation. Your energy levels are low, and you need a break badly. You don't have a high standard for where you visit, so long as it's not too expensive and has some sort of appeal. The middle of May is still a possible date. Find the least expensive flight to any destination in the world during that time period.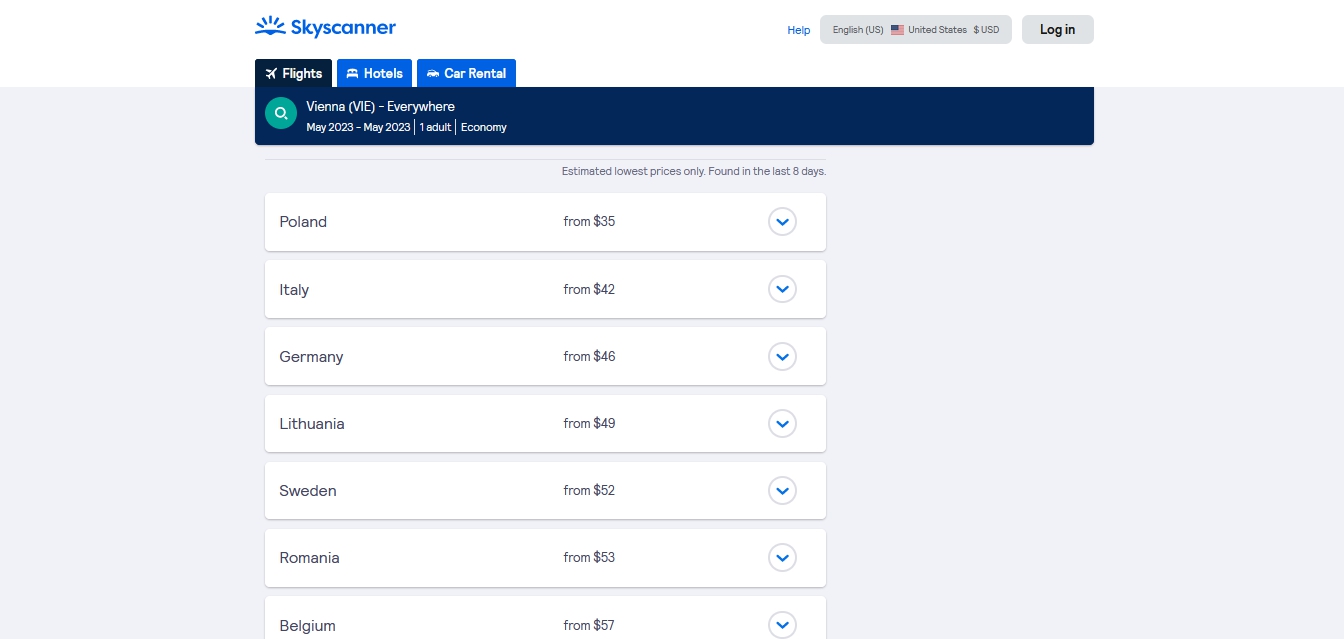 You can "Search Everywhere" with ease thanks to Skyscanner. Simply selecting the "To" field on the search screen will bring up a list of options. It generates a list of countries and their respective sample prices. When you select a country, you'll be taken to a page where you can compare costs in various cities across the nation.
Skyscanner multi-city flight search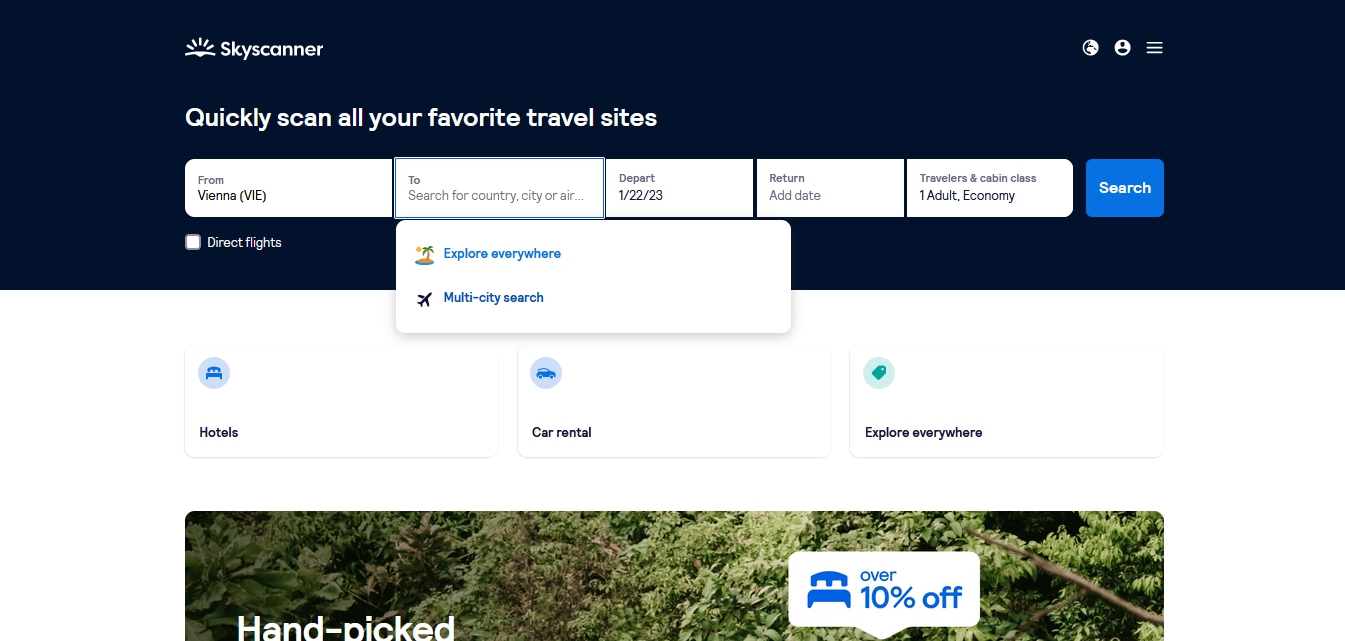 Skyscanner makes it easy to book a flight with more than one stop or an open jaw. Just choose "multi-city" from the buttons above the search box and type in the dates and times of all the flights you want. You can put in up to six legs on Skyscanner. But some of the legs can be cheaper if you book them separately, so we always recommend comparing prices.
Skyscanner one way flight search

It is also very simple to reserve a flight for a single direction. Simply select the departure and arrival points, followed by the date of departure, and then press the button in the search box.
How To Find And Book Cheap Flights With Skyscanner
---
Skyscanner has partnerships with some OTAs that let you book through them. However, these fares only show up if they are among the cheapest ones.
Most of the time, you won't book your flight through Skyscanner. Instead, Skyscanner will send you to an online travel agency (OTA) or the airline that offers the flight you want, and you'll book through them. This means that the price Skyscanner shows you may not always be the price you pay. For example, a direct flight from Vienna to Bangkok. As we've already seen, when you click "Select," you're taken to a list of OTAs that sell tickets for this route.

Skyscanner will take you to the website of the company and check to see if the rate is still available after you click on it. In spite of its low rating, Mytrip is actually quite transparent regarding the components that are included (i.e. your baggage).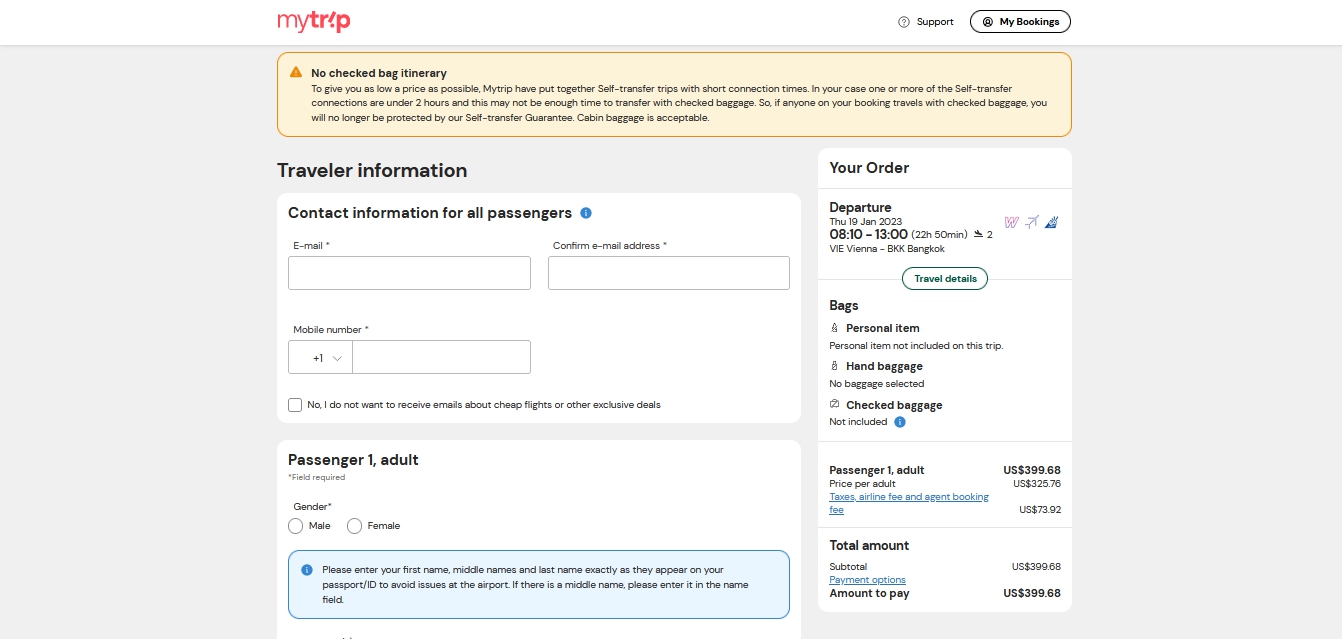 When it comes down to it, you won't be able to find out what the additional fees are until you go to book your flight (unless you select Premium Economy or higher at the beginning of your search). If you book an itinerary with Basic Economy, the additional fees, which may include charges for checked luggage, carry-on luggage, seat selection, and meals, may add hundreds of dollars to the total cost of your trip.
Pros & Cons of Finding Cheap Flights with Skyscanner
If you're thinking about using a travel search engine to book your flights, you should know the pros and cons. Here are the good and bad things about Skyscanner:
Pros:
You can search several different airlines all in one location. It is not necessary for you to search each individual airline's website in order to compare fares if you use Skyscanner because it searches the internet for the lowest price.
Dates and places can be moved around. You have the option, when carrying out a search, to conduct a "everywhere" search in order to obtain flexible location options or to look at a calendar view of prices in order to obtain flexible date options.
There are many different choices available for filtered flights. You can compare the different options by setting the filters to show the cheapest, best, and fastest flights and then seeing which one has the best price for you.
Set price alerts. You can sign up for a price alert and be notified whenever there is a change in the prices of flights, which is convenient given how frequently prices for flights shift.
Cons:
Unfortunately, you are unable to make a booking directly through the Skyscanner website. You will be redirected to the website of the OTA or airline when you click on a flight on Skyscanner. This can be infuriating if you find a good flight but the deal is no longer available on the airline's website.
There may be a difference in the fees that you pay depending on where you book your flight. When you are redirected, you will need to pay attention to the booking fees and the baggage limits that are in effect.
There are some OTAs that raise some eyebrows. Do your research and find out more about an online travel agency (OTA) that is listed on the Skyscanner website if you are unfamiliar with the company before making a reservation with it. Skyscanner does a thorough job of vetting its OTAs, but it doesn't hurt for you to do a quick review search of your own if you're not sure about a particular OTA.
What are other OTAs alternatives?
As a travel aggregator, Skyscanner shows information from other websites and online travel agencies (OTAs). You might be curious about which companies and OTAs Skyscanner works with. Here are a few of the OTAs that Skyscanner lists:
Skyscanner might also send you straight to the airline instead of to an OTA. But keep in mind that Skyscanner does not show all airlines.
Frequently Asked Questions (FAQs):
Is Skyscanner free?

Skyscanner is a free service. It is a metasearch engine that searches and compares prices from different travel agencies and airlines, and directs you to the agency or airline site where you can book the flight. There are no fees associated with using Skyscanner's search and comparison service.

The revenue for Skyscanner comes from the commissions they receive from the travel agencies and airlines when a user books a flight through their platform. The prices shown on Skyscanner are the same as if you would book the flight directly through the airline or agency.

It's worth noting that, when you follow the link to book the flight, you will be directed to the website of the airline or travel agency where you will be able to complete the booking process, it is on these sites where you may find additional fees or taxes.

Can you select a seat when booking a flight on Skyscanner?

No. When you are sent to the OTA or airline's website, you can choose your seat right there.

Is the Explore Map function on Skyscanner still available?

Skyscanner has removed the Explore Map function, despite the fact that it was an extremely useful tool for locating affordable flights to locations all over the world.

Can you cancel a booking or flight on Skyscanner?

No. Before you book your flight, make sure to check with the OTA or airline you booked with to see what their cancellation policy is. To cancel or change your flight, you will need to contact them directly.

If you choose to book through an online travel agency (OTA) like Expedia or Orbitz instead of directly with the airline, there are some extra rules to look over. Since they are third-party OTAs, if something goes wrong, you won't be able to deal with the airline directly. Even so, I've never had a problem when I booked a flight through Skyscanner or another OTA.

Does Skyscanner have customer support?

Skyscanner's help page isn't all that helpful for figuring out how to get in touch with them. However, since your booking is with the OTA or airline, you'd need to contact them to make any changes to your reservation. Skyscanner has a contact form or you can send an email to .

Does Skyscanner show all flights?

Skyscanner is a meta-search engine that searches and compares prices from different airlines and travel agencies, it doesn't operate its own flights. However, Skyscanner shows a wide range of flights from different airlines and travel agencies, but it may not show all flights available, as it depends on the agreements and partnership that Skyscanner has with those airlines and agencies. Some airlines or agencies choose not to share all their flight information with metasearch engines like Skyscanner.

It's important to note that, Skyscanner is constantly updating its database, so it's possible that new flights may not be immediately available on their platform but will be added as soon as possible. Also, as Skyscanner does not operate its own flights, it is not always able to provide the most up-to-date information on flight availability and pricing, particularly during periods of high demand or when flights are sold out.

Is better to book flight with OTA or directly with airline?

Booking directly with an airline can have some advantages. For example, you can have access to all the flight options the airline offers, including special promotions and discounts only available on their website. Also, you may have more control over your booking and the ability to make changes or cancellations through the airline's website or customer service.

Skyscanner is a great way to find the cheapest flight because it searches hundreds of travel sites to find the lowest prices. So, it'll have more options available. But if you like a certain airline or the services they offer, airlines may be a better choice. If you book directly with an airline, they may give you discounts or extra services. The only way to find out about these is to check their website.

On the other hand, using a meta-search engine like Skyscanner can also have its advantages. Skyscanner searches and compares prices from different airlines and travel agencies, which can save you time and make it easier to find the best deal.

Is Skyscanner legit?

Yes, Skyscanner is a legitimate company. It is a well-established and reputable metasearch engine that searches and compares prices from different airlines and travel agencies. It is a registered travel agent and has been providing flight booking services for over a decade, building a solid reputation among travelers.
Bottom Line :
Skyscanner is a great tool for finding cheap flights that can save you time and money. With its user-friendly interface, vast selection of options, and detailed flight information, it makes it easy to find the perfect flight that meets your needs, whether you're looking for a cheap flight deal, a specific departure or arrival time, or a certain duration of the trip.
Additionally, Skyscanner is a registered travel agent and a publicly traded company, which means that it's transparent in its operations and financials, and a member of several reputable organizations such as IATA (International Air Transport Association) and ABTA (Association of British Travel Agents), which gives you peace of mind that you're booking with a reputable company.