Portugal's largest island, Sao Miguel, is located in the beautiful Azores archipelago. Sao Miguel is home to various attractions, from some of the world's most breathtaking landscapes and jaw-dropping viewpoints to quaint little towns, the best hikes, and even hot springs.
---
What to do on Sao Miguel Island? What should you do if you're visiting for the first time? Portugal's largest island, So Miguel, is located in the beautiful Azores archipelago. The natural beauty of this island is unparalleled, and it is well-known for its stunning waterfalls, lush vegetation, abundant marine life, and pristine beaches.
Because of its stunning landscape, So Miguel welcomes visitors from all over the world. The island's lush landscape has earned it the name Ilha Verde, which means "Green Island." Picturesque landscapes include the dramatic Atlantic coast and the quaint towns that line it. The island capital of Ponta Delgada, with its balconied mansions and city squares, exudes a distinctly European air. The island is well known for more than just its breathtaking scenery; it is also renowned for its varied cuisine and exciting adventures.
This article will give you a good overview of the best what to do in Sao Miguel Island if you're wondering what there is to do and see there. Sao Miguel is home to various attractions, from some of the world's most breathtaking landscapes and jaw-dropping viewpoints to quaint little towns, the best hikes, and even hot springs.
As a whole, So Miguel is a great place to visit because it offers a wide variety of enjoyable activities. There are numerous opportunities for either a leisurely beach vacation or an exciting adventure. What follows is worth your time.
8 Exciting Things What To Do In Sao Miguel Island, Azores
Ponta Delgada
Ponta Delgada is the most significant city in So Miguel, and you should visit it. However, I wouldn't recommend staying there for very long. The island's more beautiful regions are worth your time. However, plan on spending at least one afternoon checking out the waterfront and downtown.
The Mercado da Graça public market is highly recommended by locals and visitors alike for its wide selection of fresh fruits, vegetables, meats, and fish; however, I must warn you that it is quite small and is better suited to locals than to tourists. However, the deli and cheese shop next door is called Rei dos Queijos and is quite good.
The churches, the arches of the city gates, the tiled sidewalks, and the cobblestone streets along the waterfront and in the central square vicinity are worth seeing.
Be Amazed By Viewing The Beauty At Boca Do Inferno.
Although the name means "Mouth of Hell" in Portuguese, on a clear day, the Boca do Inferno viewpoint is one of the most stunning in all of Brazil. After a leisurely five-minute stroll along a ridgeline, you will be rewarded with a view that cannot be captured by the camera.
Sete Cidades, a small town on Sao Miguel, can be seen off in the distance against a backdrop of rugged craters, peaceful lakes, and lush green countryside, making this a prime location for witnessing the island's volcanic past and present.
If you are driving, keep an eye out for the Lagoa do Canário signs. Don't use the parking lot off the main road; drive a few minutes down the dirt road that runs parallel to it. The boardwalk will begin right there, wherever you decide to leave your vehicle.
Go On A Tea Break In The Only European Tea Plantations.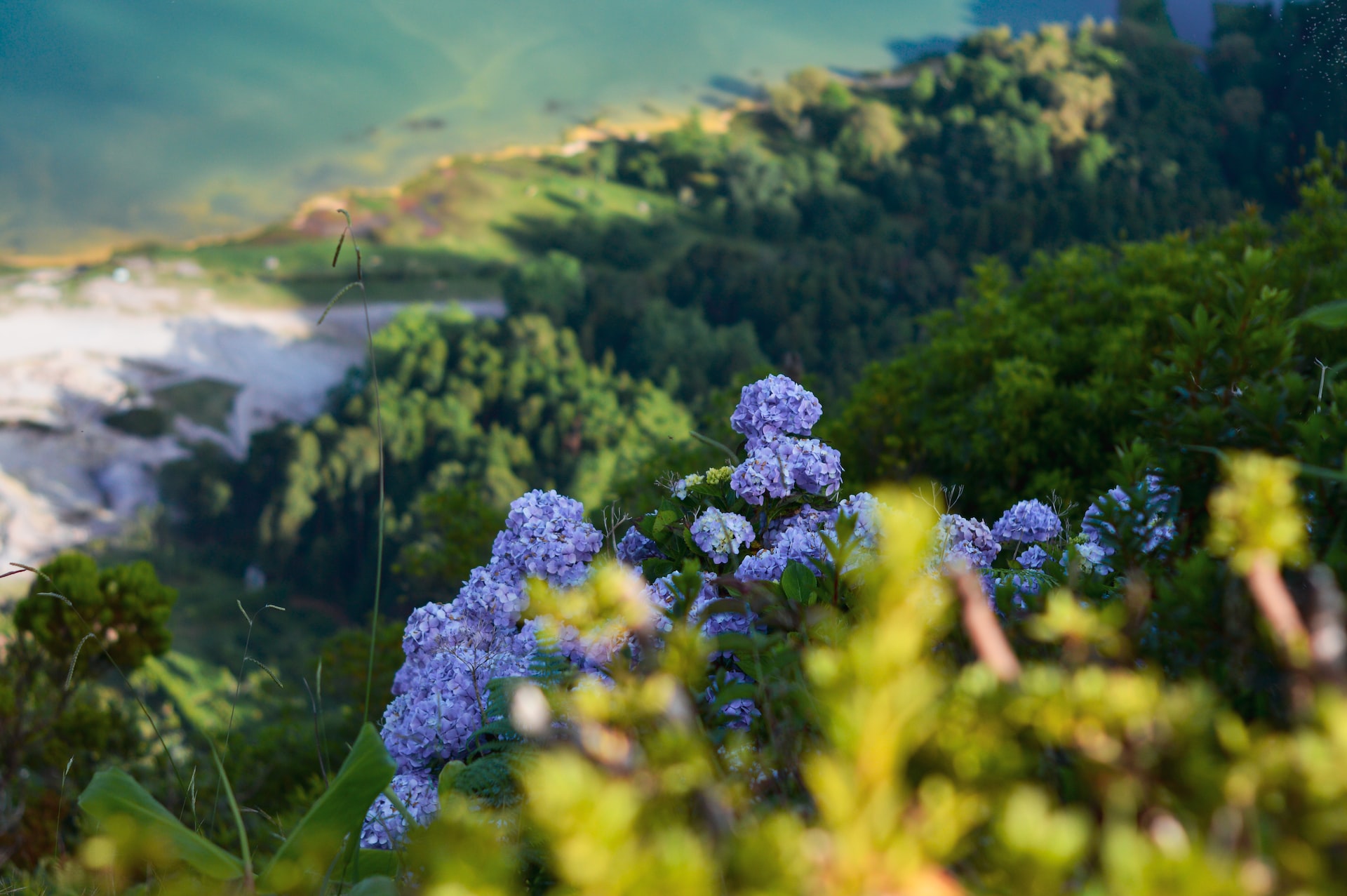 Since 1883, Gorreana and Porto Formoso have been the only two European tea estates producing organic black, green, and orange pekoe teas. See for yourself how the tea got to the Azores and is still produced in an environmentally responsible manner by visiting one of the many tea plantations in the region. There are also no-cost tea tastings available. To stimulate the local economy, the property owners brought in Asian tea experts to teach locals how to cultivate the plant.
From that point on, it gained momentum. When you visit the plantation, you can take one of several loop hikes that will give you a bird's-eye view of the entire property. Once you return to the main tea factory, you can sample different teas, take a tour of the facility, and watch a video about the origins of the plantation. There is no cost. Manufacturing equipment dating back to 1883 is still in use today.
This aged tea has a flavor all its own. Gorreana now distributes their tea worldwide, from the western United States and Canada to the eastern regions of Europe and Asia.
Go On An Excursion To The Ribeira Dos Caldeires Natural Park.
Zobraziť tento príspevok na Instagrame
On the island of So Miguel, the Ribeira dos Caldeires Natural Park is one of the locations most certainly justifies being included on a list of things to do there. This protected area includes a waterfall, several water mills (one of which is home to an ethnographic museum), old miller houses that have been converted into tourist accommodations and handicraft shops, a picnic area, a cafe, and a children's playground. It can be found in the community of Achada, which is part of the municipality of Nordeste.
Lagoa do Fogo
This kind of setting makes you feel like a tiny speck in the grand scheme of things when you're there. Lagoa do Fogo, also known as Fire Lake, is located deep within So Miguel's mountainous interior, smack dab in the middle of some of the island's most inaccessible and protected regions. This once-active volcanic crater is now home to a breathtaking lake that can only be fully appreciated on extremely infrequent occasions when the weather is clear.
Spend some time at the base of the steep trail that leads down to the lake and take in the pristine natural surroundings. The hike takes about 30 minutes. There is a prohibition against swimming or fishing in the lake. Because this is a nature reserve and one of the most sensitive areas on the island, we ask that you exercise extreme caution about the disposal of trash and any other type of pollution, including noise pollution, that you may be causing.
The Pineapples Of The Azores
The famous pineapples from the Azores are grown in glass greenhouses warmed by the sun to a temperature that can reach 38 degrees Celsius. This causes the plants to think they are in Central or South America, where they originate and causes them to sprout in the opposite hemisphere from where they would normally do.
You can find a number of these greenhouses in Faj de Baixo, but the Arruda Pineapple Plantation is one of the ones that has been preserved the most effectively. You will be able to learn what each of these terms means, observe the "dens" that are grown in the "sprouting chamber" and the "sprouts" that are grown in the "germination trays," and even purchase the renowned crowned fruit. You can also pick up some pineapple liqueur, chutney, and mustard at the Arruda shop. However, one thing you won't be able to find is pia colada.
Soak In The Warm Ocean Water
Have you been searching for something out of the ordinary? The ocean water in Ferraria, on the island's western coast, is heated by natural hot springs, making it ideal for swimming. The natural cove is free to use, but the spa and outdoor pool next to the parking lot cost 15 Euros per person (or 5 Euros per person to use the pool).
It's best to exercise caution if you choose the latter, as the water is likely to be uncomfortable and choppy during low tide. Check the tide times or ask the locals before heading out, as the hot springs have little to no effect on the temperature at high tide. It will be a hairy, winding descent down the cliffs to the beach below. There is a restaurant inside the spa/pool building for when you work up an appetite, as well as locker rooms and bathrooms.
Bath In Forested Hot Springs

In the middle of the winding road from Lagoa do Fogo to Ribeira Grande is one of the island's most popular tourist destinations. The Caldeira Velha hot springs are a cluster of natural pools located in the midst of tropical rainforests and accompanied by a cascading waterfall.
In contrast to the larger pools, the smaller ones are noticeably hotter, typically hovering around 100 degrees Fahrenheit—perfect for those chilly fall and winter days. In contrast to the hot tub-like smaller pool, the larger pool with the waterfall is noticeably cooler.
When visiting during peak season, don't expect to have the place to yourself, as it is popular with tour groups and independent travelers. Street parking in front of the building is available but can get congested. You'll find more breathing room if you come at the beginning or end of the day.
The Terra Nostra Gardens Are A Must-See.
At the site of what was once an orange orchard, visitors will find not only one of the world's most stunning gardens but also a large thermal mineral pool. Aside from the main mineral-rich thermal pool, there are a few smaller "hot tub-style" thermal pools tucked here and there.
Spend the day here exploring the gardens, lounging by the mineral pool, eating at the Terra Nostra Hotel (home to the best cozido in all of Furnas), and/or soaking in one of the many natural thermal pools. It's as good as it gets in heaven.
Find Out What Happened To The Monte Palace Hotel.
The first 5-star hotel in the Azores was the Monte Palace. As a result, the establishment shut down in 1990, just 19 months after opening. Eventually, the hotel's remaining contents were stolen after it ceased being monitored in 2011. At the Vista de Rei's peak, high above the Sete Cidades Lagoon, only a specter of its former glory remains. Visitors are drawn by the area's aura of mystery and flock there frequently.
Can You Recommend A Good Time To Visit Sao Miguel Island, Azores?
The Azores are mild year-round, but the weather can be unpredictable in the fall and winter. In terms of weather, July and August are your best bet. You should also know that this is the busiest travel season, so expect to pay more for lodging, transportation, and food. Oh, and make reservations in advance at the top restaurants. Shoulder seasons, such as April–May or September–October, have milder temperatures and fewer tourists, making them the best times to visit if you don't mind the possibility of rain or snow.
Is It A Good Idea To Go To Sao Miguel Island?
The Azores are a group of nine stunning islands, but So Miguel stands out as a must-see. Exciting outdoor pursuits like hiking and whale watching can be combined with more sedate pursuits like lounging on the beach or soaking in a thermal pool, and the scenery is breathtaking. This beautiful island has various attractions, from its unique European flavor to its centuries-old landmarks.
Modern amenities such as treatment-laden spas, picnic areas, public restrooms at viewpoints, beach baths, and beautiful resorts in romantically themed gardens complement the island's natural charm.
To sum up, this Atlantic-locked paradise is a fantastic travel destination. Sao Miguel is ideal for honeymooners, adventurers, backpackers, and holidaymakers due to its ability to seamlessly switch between the two extremes. On So Miguel, you'll wish you had more time to enjoy all the wonderful activities available.
How to get around?
Rent a car if you don't mind navigating narrow streets in crowded cities or driving in the rain or fog along winding roads perched on the edge of cliffs. Since public transportation isn't designed with tourists in mind, this will be the most convenient way to get around on your schedule.
If either of these things makes you nervous, or if you simply want the peace of mind that comes from traveling with someone who knows which areas to avoid due to weather, mudslides, or washed-out roads, then hire a private driver-guide or sign up for a tour that includes a pick up for some of your activities.
Conclusion
We hope this has given you plenty of information to plan your trip and know what to do in Sao Miguel Island and I am sure you will love the island as much as I do after your vacation.Sao Miguel is the most populous and largest island in the Azores, and it is also a paradise for tourists. Stunning hiking trails and roads traverse the island's varied topography, including rugged mountains, lush farmland, and sparkling coastlines. The island is home to several stunning natural features, including Praia da Vitória (the island's largest beach) and Sete Cidades, one of the most beautiful lakes in Europe.
This mountainous island has a lot going for it, with its verdant forests, crystal clear waters, and numerous castles and churches. The Azores were once a major stop for Portuguese explorers on their way around the world, and they continue to enchant visitors from all over the globe today.
---
Frequently Asked Questions (FAQ):

What is Sao Miguel island known for?

Sao Miguel is also known for is award winning Terra Nostra Park, wonderful golf courses, lakes, beaches, land, century-old architecture, majestic scenery, and most of all, its people.

What is the main industry in the Azores?

It's main industries are agriculture, dairy farming, livestock, fishing, and tourism, which has become a major service activity in the region. The government of the Azores employs a large percentage of the population directly or indirectly in the service and tertiary sectors.

Which is prettiest island in Azores?

Of the islands that make up the Azores archipelago, Sao Miguel is undoubtedly one of the most beautiful. Its heavenly beaches and lush vegetation have earned it the nickname "the Hawaii of Europe." Measuring almost 750 km2, it is the largest island in the Azores.

Is Sao Miguel A volcanic island?

Sao Miguel comprises six volcanic zones that formed in the last 3 million to 4 million years. But the island didn't take on its modern shape until about 50,000 years ago, when an eruption of land-forming lava joined the eastern and western volcanic massifs.

How long do you need in Sao Miguel?

Although it is the largest of the Azores islands, Sao Miguel can be seen pretty extensively in 3 days, though 5 days would give you more time and let you see it at a more leisurely pace. The other islands are quite small and can be seen in a day and a half.

Can you get around São Miguel without a car?

It is possible to move around Sao Miguel using public transport such as buses or cabs, or rent a car or scooter.